Onali - Boca Raton, Florida

Our customers' finished product
LoveBBGoods - California

Our customers' finished products
Kathy Par Studio - Los Angeles, California

Our customers' finished products
Cara Chula - USA

Our customers' finished products
Not Makeup - St Louis, Missouri

Our customers' finished products
Solana Simply - Knoxville, Tennessee

Our customers' finished products
Onali - Boca Raton, Florida
Our customers' finished product
LoveBBGoods - California
Our customers' finished products
Kathy Par Studio - Los Angeles, California
Our customers' finished products
Cara Chula - USA
Our customers' finished products
Not Makeup - St Louis, Missouri
Our customers' finished products
Solana Simply - Knoxville, Tennessee
Our customers' finished products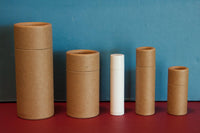 What They're Used For
It all began with our original .3 oz push-up tubes, designed to replace the common plastic lip balm tube. These are still a top selling product and we've since expanded our line to over 64 SKUs of stock containers, as well as customized packaging that is used all over the world for handmade products. Some of these include lotion bars, solid sunscreens, powder deodorants, bug repellants, loose leaf tea, spices, crayons, candles, dog treats and more!
Free Shipping in the USA
Enjoy free standard shipping to anywhere in the USA!
Please contact us for bulk orders, custom container quotes, and any questions or feedback!
We love hearing from you.
Chuan Skincare

Our customers' finished products
Onali

Our customers' finished products
Recompose

Our customers' finished products
Cara Chula

Our customers' finished products
Solana

Our customers' finished products
Liliblanc

Our customers' finished products
Chuan Skincare
Our customers' finished products
Onali
Our customers' finished products
Recompose
Our customers' finished products
Cara Chula
Our customers' finished products
Solana
Our customers' finished products
Liliblanc
Our customers' finished products