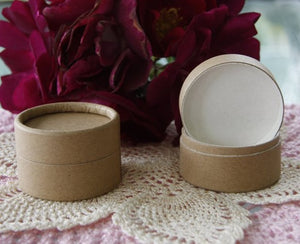 Sturdy and sustainable jars made completely out of renewable, sustainably-sourced Kraft paperboard and lined with a plant-based, wax paper lining that is fully compostable, biodegradable, creating an oil-proof shield from the outer paper.

The secure paper lid can be removed smoothly by pulling/twisting upwards. These are not airtight, so they are not recommended for liquid products! The lid stays on well and is great for traveling and shipping since they are lightweight and durable, unlike glass.
Reusable, recyclable and eco-friendly!  Shipped in recycled packaging.

49.5mm / 1-15/16" - inner diameter
51.5mm / 2" - outer diameter
35mm / 1-3/8" - total outer height
19mm / 3/4" - total inner height
24mm / 15/16" - height of base with lid off (includes neck)
16mm / 5/8" - outer lid height
19mm / 3/4" - outer base height (from bottom of of tube to lid line)
43.5mm / 1-11/16" - top of lid diameter (for sticker)
165mm / 6.5" - circumference
Please note - The volume is measured in mL and fluid ounces. The weight of unique product the container holds may vary slightly.