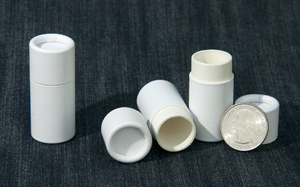 Introducing our coated paper tubes, the perfect union of eco-friendly aesthetics and oil resistance. These tubes are not just containers; they are a statement of refined simplicity. Crafted from clean, oil-resistant white semi-gloss paper on the outside, and a pristine white veggie wax-coated interior, they redefine packaging excellence.

But what truly sets these tubes apart is their strength. Lined with a plant-based, wax paper lining that is fully compostable, biodegradable, and recyclable, forming an impenetrable shield against oils and ensuring the integrity of your product. The thin coating on the outside of the tube is made of PLA bioplastic, adding another layer of eco-consciousness to our design.  Please note that PLA is only industrially/commercially compostable, not home compostable like most of our other products.

Simplicity meets ease of use with our lightweight containers. A discreet disc at the bottom can be effortlessly pushed up with just a finger, allowing for easy product dispensing. Unlike other paper tubes which have an unsightly diagonal seam that tends to unravel with daily use, our vertical seam design ensures your packaging stays flawless.

To make your experience even smoother, we've included foolproof filling instructions.  Our commitment to sustainability extends all the way through the supply chain, and we thoughtfully ship all orders using recycled, compostable materials.

Please note:  We measure our volumes in mL and fluid ounces. The weight of your unique product within the container may vary slightly.

Detailed Dimensions:
- Inner diameter: 18mm (3/4")
- Outer diameter: 22mm (7/8")
- Total outer height: 51mm (2")
- Total inner height: 40mm (1-5/8")
- Height of base with lid off (includes neck): 42mm (1-11/16")
- Outer lid height: 17mm (11/16")
- Outer base height (from bottom of tube to lid line): 32mm (1-5/16")
- Top of lid diameter (for sticker): 15mm (5/8")
- Circumference: 73mm (2-7/8")

And if you're seeking more variety, explore our website for uncoated tubes of the same size in a range of captivating colors.

These tubes are not just containers; they are a testament to elegance and sustainability.
Fun fact: They're nearly identical in size to the popular 1/3 ounce container but about 20mm / .75" shorter and ever so slightly wider.

Ready to elevate your packaging game? Join the movement towards eco-conscious sophistication – Order Now!